It happend so that I got brand new brake system set from MB E 212 AMG at my wearhouse.
Holding carbon rotor for the first time in your hands you feel you've been cheated all your life. Size and weight just don't seem appropriate for each other! And the thought sinks in – cast-iron is only good for barbell plates!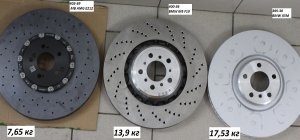 That's how I came up with an idea to create a comparison review of three differet rotors of the same size.
1. MB E212 AMG brake rotor 402 mm, 39 mm thick, 7,65 kg of weight.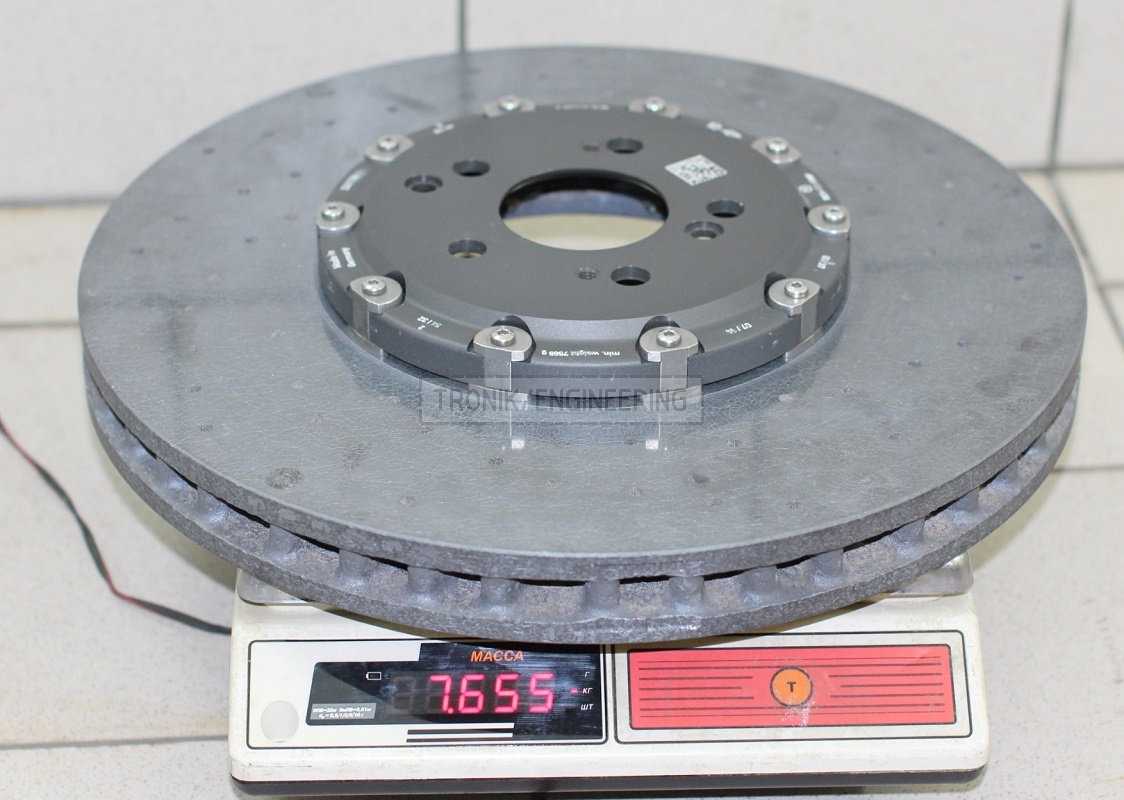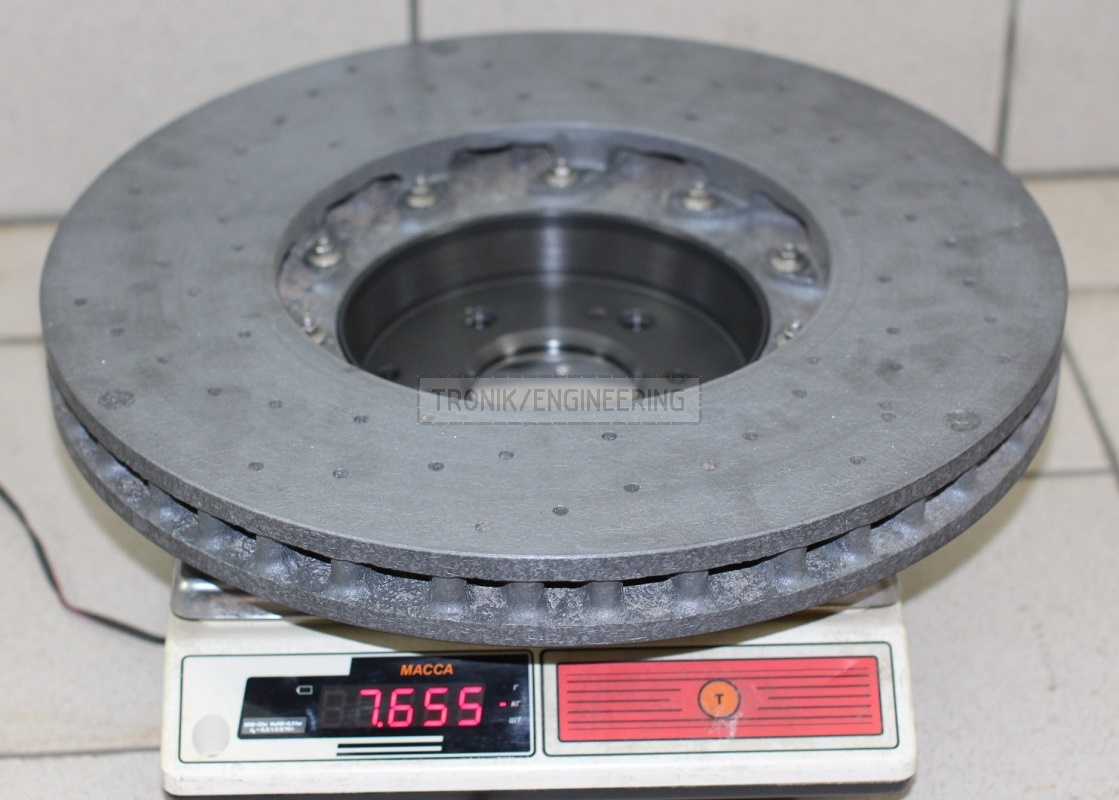 Directed ventilation , aluminium alloy hat,  thermal expansion compensation of mobile bobbins.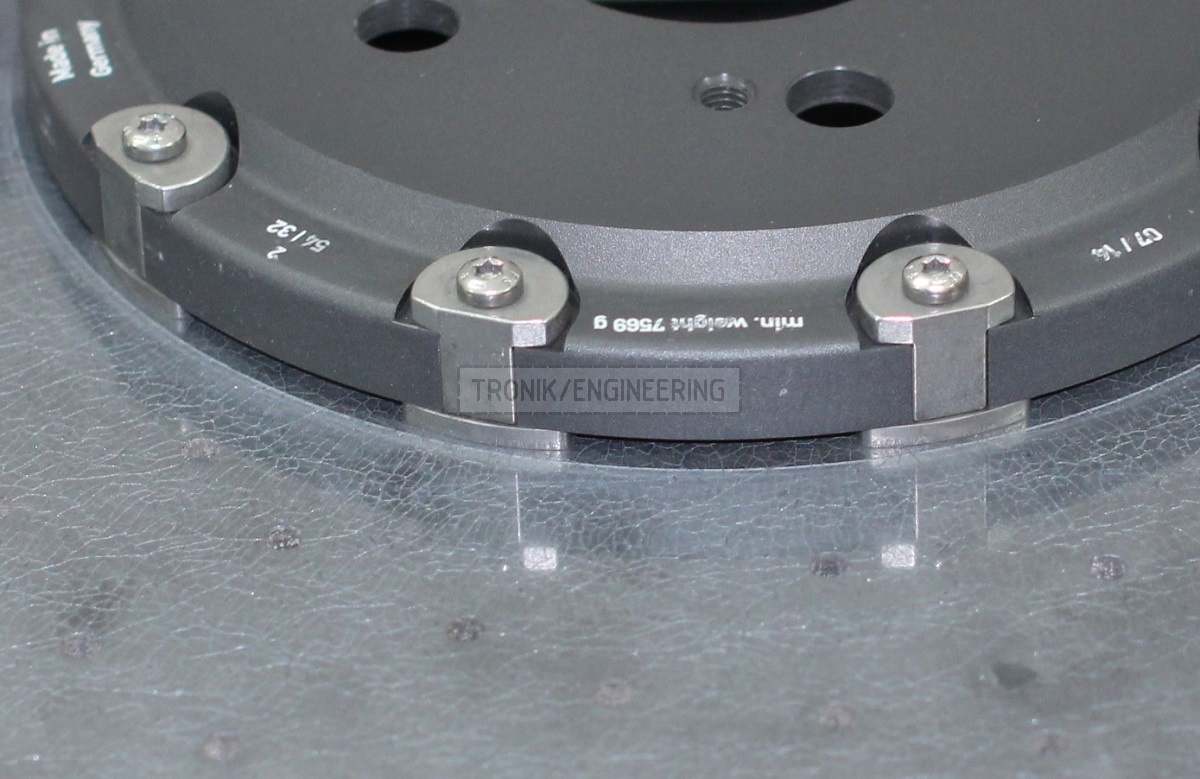 Upper calculated temperature limit for carbon-ceramic brake rotor is unbelievable 600 degrees Celcius, or 1112F.
Though, I must say, that this kind of temperature carbon-ceramic rotor could not stand for long.
Carbon gets oxidized and the rotor structure rapidly loses it's hardness.
The oxidation level of a rotor can be determined, believe it or not, by it's weight.
For each rotor there is an information displayed on it's hat.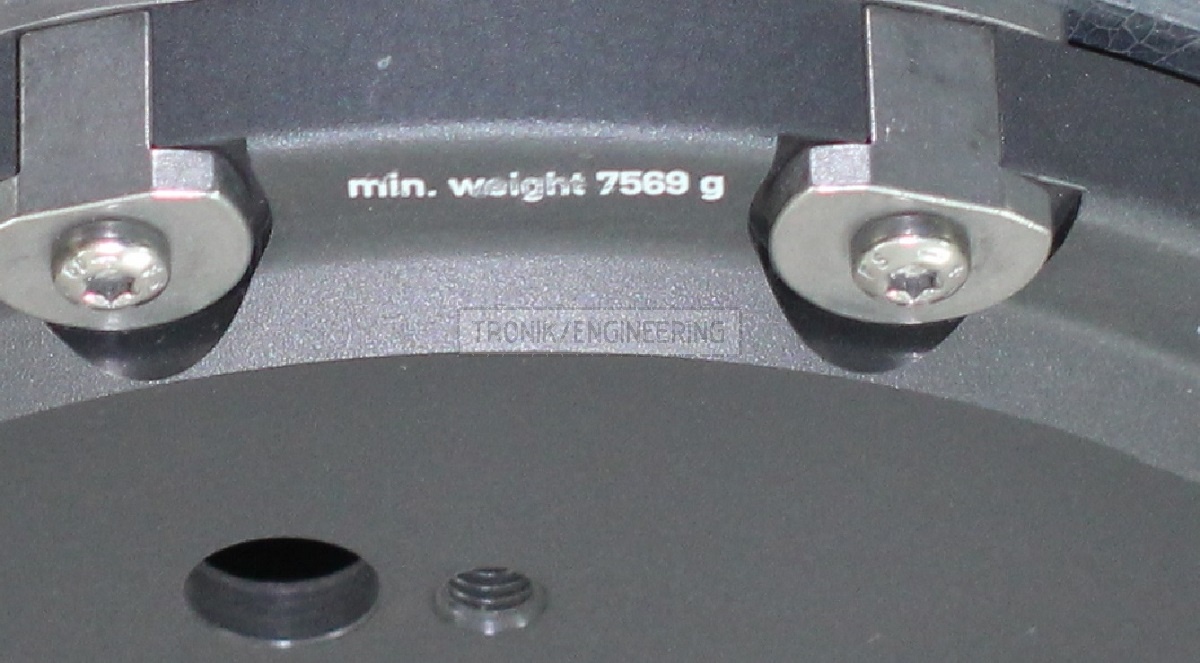 Particularly in this case it's min. weight is 7569 g., scales show 7655 g., that means this rotor is new and have a long road ahead of him 🙂
Brake rotor working surface coated with practically the hardest material (not counting girls' best friends) – silicon carbide SiC (melt.t.  2830°С) chemically stable, by hardness it's second only to diamond and boron nitride.
Manufacturer claims that it does not wear off, which is quite easy to believe.
Steep price of carbon-ceramic rotors determined by the production complexity and high labour input, as the carbon-ceramic rotor production process takes several weeks to complete.
One of the production steps is curing in an oven under the 1300 C temperature for 24 hours.
2. Brake rotor BMW M5 F10 400 mm diameter, 36 mm thick, weight 13,9 kg.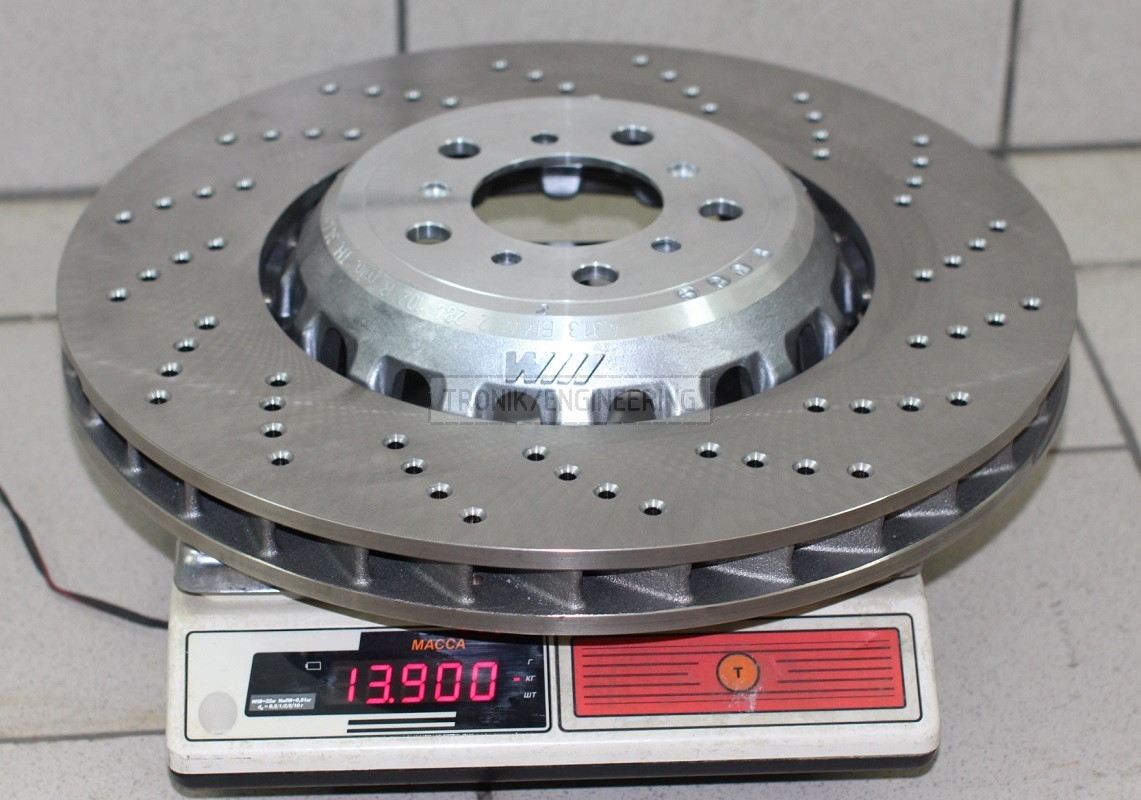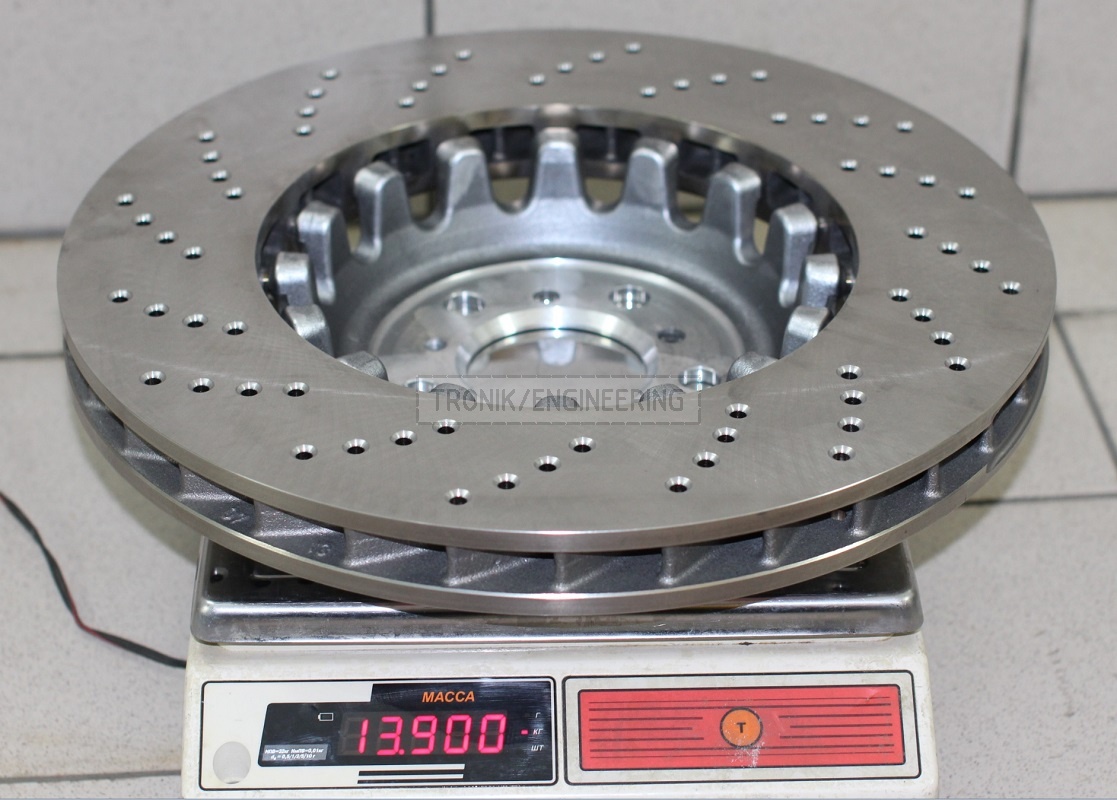 This brake rotor working surface made out of cast-iron, to increase the internal channels surface and the air flow through those channels, the ventilation is intentionally directional.
There are left and right brake rotors.
Upper calculated temperature limit for it is 450 C.
For this kind of temperature provisions for  thermal expansion compensation of the brake rotor's working part must be made.
As rotors are produced on a large scale, the elegant and reliable design was chosen.
Steel locating pins get inserted right after the channels are drilled into the working part of the rotor.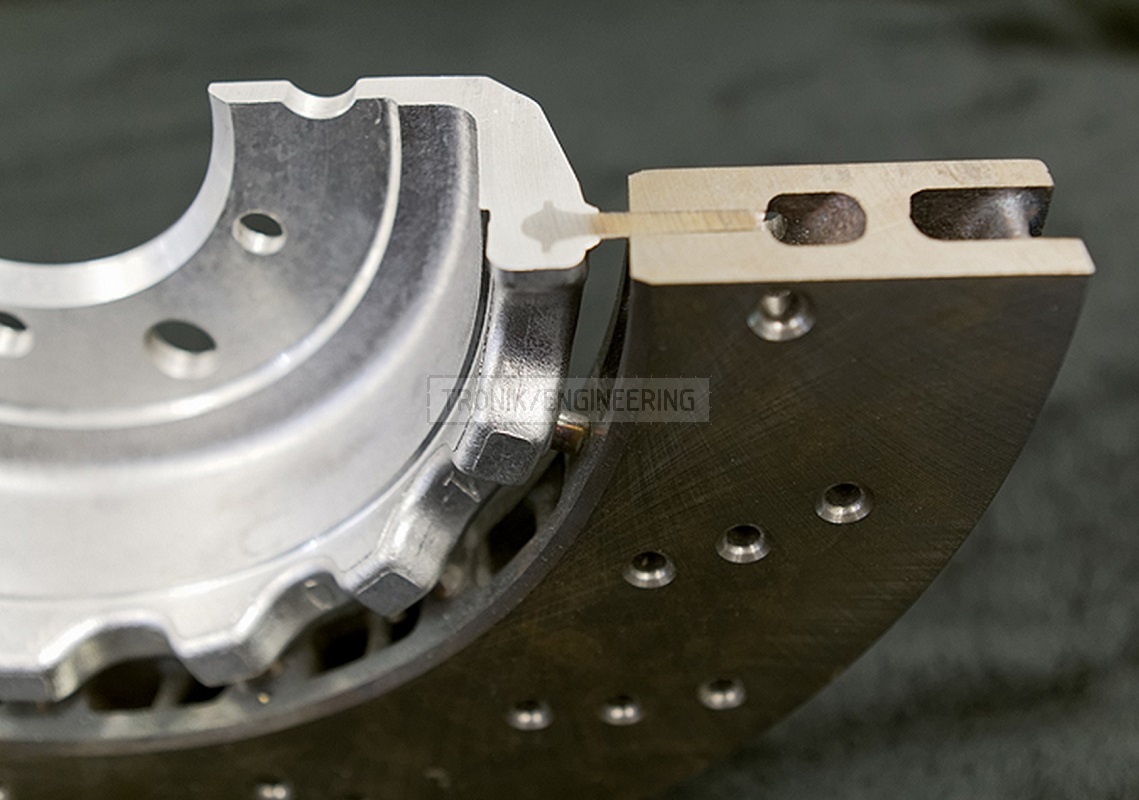 One end of the pin has a nail head like thickening.
Those heads are perfused in liquid aliminium alloy under pressure.
This structure turns out light and cost effective.
3.BMW X5M brake rotor, 395 mm diameter, 36 mm thick. Weight – 17,53 kg.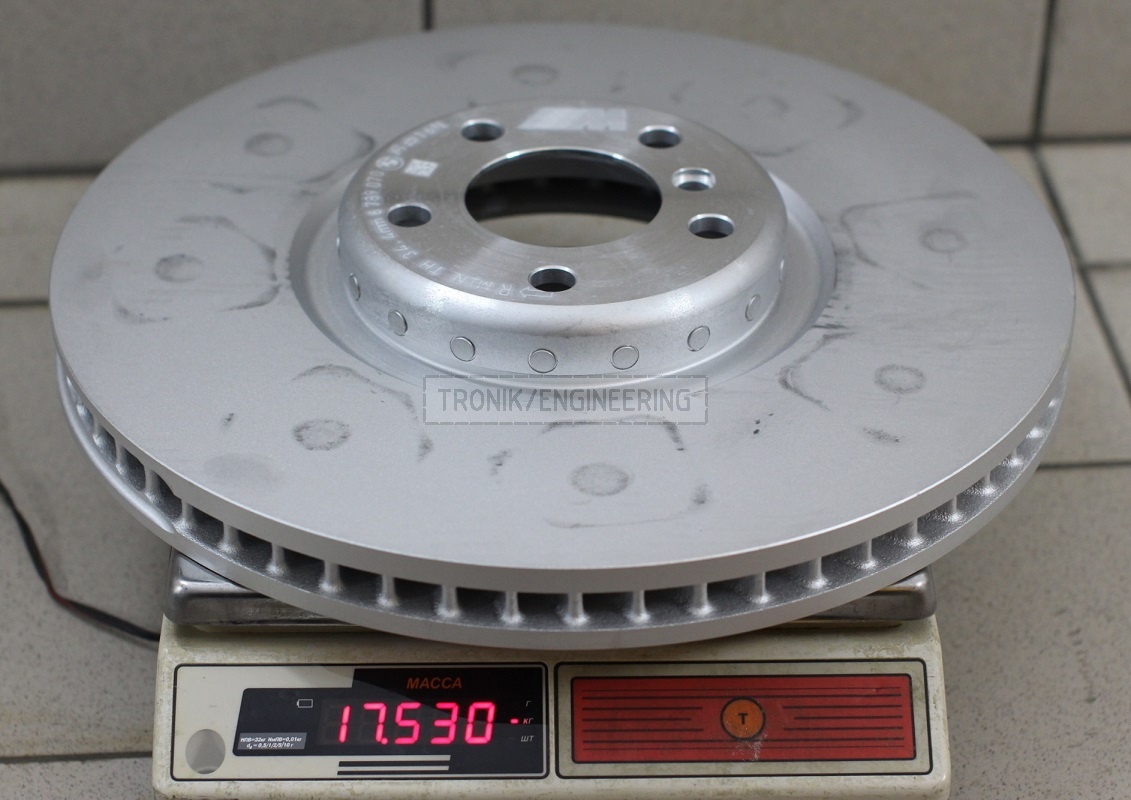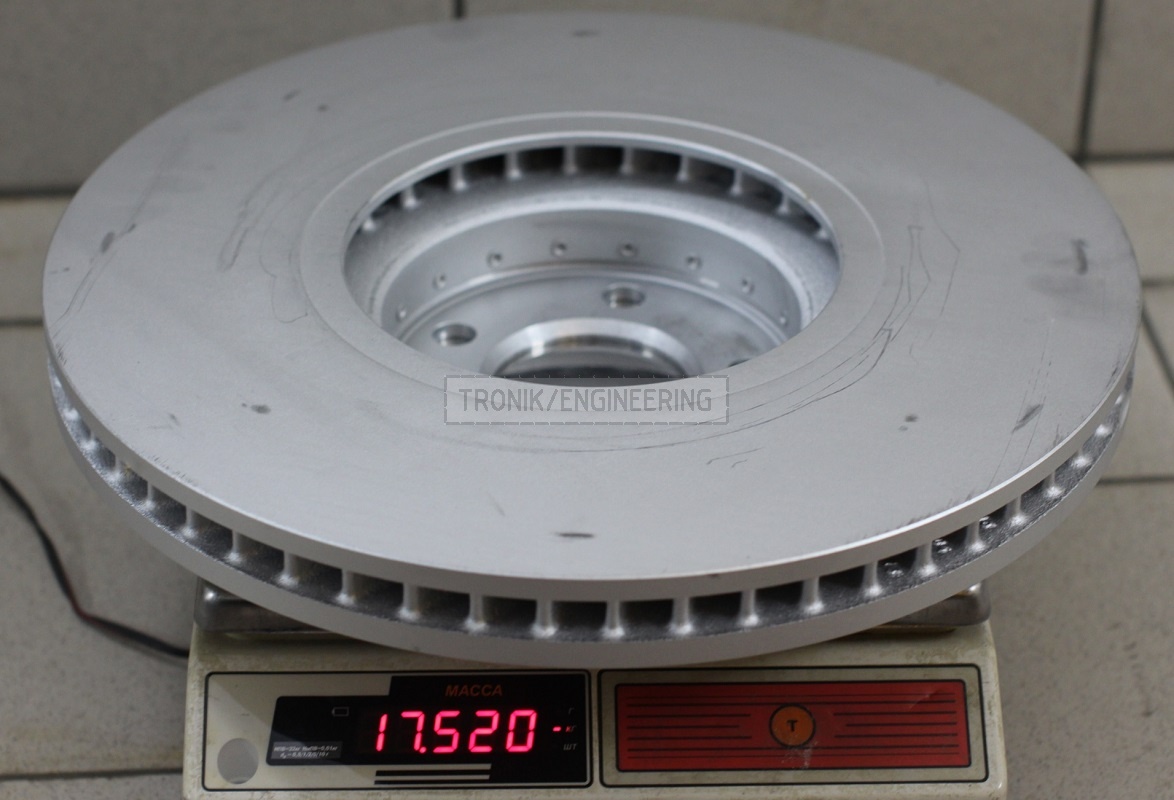 This giant is a heavy weight  champion.
When I saw it for the first time ( and lifted it with my own hands), I thought it was the train's brake rotor, it was that heavy!!
Even though this rotor has an aluminium hat and directed ventilation.
Two parts of it are joined by studs.